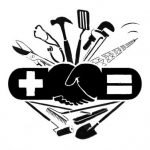 Profile last updated:
active 1 year, 6 months ago
Details
Location
Tampa, Florida
Founded
Aug. 2016
Group description
Mutual Aid Disaster Relief is a grassroots disaster relief network based on the principles of solidarity, mutual aid, and autonomous direct action.
Work description
By working with, listening to, and supporting impacted communities, especially their most vulnerable members, to lead their own recovery, we build long-term, sustainable and resilient communities.
Experience in
Advocacy
Cleanup & Remediation
Community Organizing
Legal Support
Medical
Preparation
Rebuild
Research
Rescue
Resource Distribution
Current needs
The network of mutual aid collectives across the country are constantly responding to disasters caused by the climate crisis and the human-made social, environmental, and economic disasters amplified by it. Please donate to our Action Network to support ongoing efforts or check our social media or e-mail us directly to find out about specific needs requests from impacted communities.
Contact
Fundraiser
Currently using funds for
Donated funds and material resources are used to support local disaster response, recovery, and rebuilding efforts on the ground in impacted communities.
Donate
This is a private group. To join you must be a registered site member and request group membership.